Bay Shore Lutheran Church is a welcoming and inclusive community that, inspired by the example of Christ, seeks to exude love, embrace differences and strive for peace and justice.
We are located in beautiful Whitefish Bay, Wisconsin, close to downtown Milwaukee and Lake Michigan. Here you will discover a place that nurtures and challenges your faith through the love of God in Jesus Christ. Come explore for yourself! We look forward to meeting you.
As a member of the Evangelical Lutheran Church in America (ELCA), Bay Shore Lutheran Church believes that all are called to use their gifts to serve the body of Christ. We welcome you to come and join us in this mission we share.
The richness and diversity of God's Creation and offer a welcoming, inclusive home that celebrates every individual, their gifts and uniqueness.
Broadening our hearts and minds through learning, questioning and exploring scripture as it intersects with modern life.
Encouraging social and environmental justice while serving our community and the world around us with compassion.
Authentic, sacramental and participatory worship which includes all
ages in the celebration.
Bay Shore recognizes and celebrates the gifts God gives each of us at different ages and stages of our lives by looking at ministry through a Cross+Generational ministry lens, recognizing the equality of all in the eyes of God and the church. Cross+Gen ministry celebrates intentionally bringing together the "wisdom of the elder and the wonder of the child." It lifts up all of us, regardless of age or stage of life, being Christ's Church both inside the walls of the building and outside in the community.
For more information on Cross+Gen Ministries please contact us.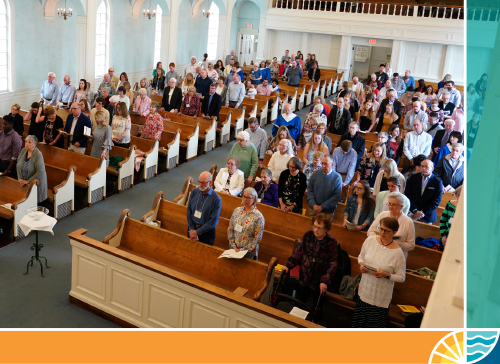 The Bay Shore Lutheran team is guided by the Holy Spirit and oversees the direction of the church. Learn more about our team.
More About the ELCA Faith
The ELCA is among the largest Christian denominations in the United States. This Lutheran faith confesses the Triune God: Father, Son and Holy Spirit. Our teachings proclaim Jesus as Lord and Savior, and emphasize the relationship God's Holy Spirit creates with us. Through this relationship, we are able to experience bold trust in God and offer generous service to everyone we know and meet.
ELCA Lutherans share in the faith expressed in the Apostles', Nicene and Athanasian Creeds, in the Lutheran confessional writings (collected as the Book of Concord) and in the ELCA Statements of Faith. We do not limit ourselves to these confessions. Instead, we visit our faith with open minds and hearts, continually listening to the witness of others and the ways God is active in the world around us. We are seekers of truth, asking questions and speaking love in the ways we exemplify our beliefs.
Learn more about the ELCA on its website.
Come join us at Bay Shore Lutheran — all are welcome! Check out our info on planning for your visit here.